A Holiday Prayer

The blessings we ask for this season
Aren't the kind that come wrapped with a bow;
We're asking for gifts from the heart,
Ones we need and never outgrow.
May we see in these bright decorations
With their colors and lights all aglow,
The beauty and wonder of life
That God's world was created to show.
Let the peace and goodwill of this season
Be feelings that we can extend
Far into the following year
To our neighbors, our family, and friends.
Most of all, may we always remember
To open our hearts every day
and share all the love and the joy
In a special and meaningful way.

author unknown

2003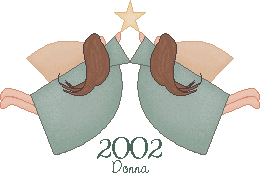 Donna's New Year Cards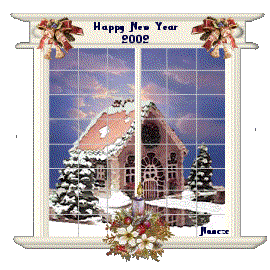 Share your gifts and talents
listen with your heart.
Do the things you dream about
but don't have time to start.
Pick a bouquet of flowers
show someone that you care,
Be gracious and forgiving
life is never fair.
Hold on to your courage
you may need it down the road,
We all have a cross to bear
it could be a heavy load.
If you practice all these things
no matter where you roam,
You may find both sun and rain
but you'll never feel alone.
~Author Unknown~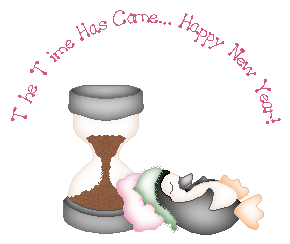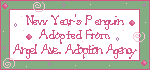 This site does not endorse the consumption of alcoholic beverages
to celebrate New Years Eve. My kiddies are happily enjoying
sparkling grape juice. If you do drink, please do so responsibly.

2000-02 DMBP Images not available for download.