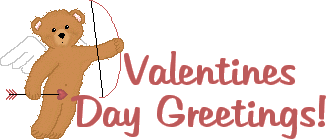 Roses are Red Violets are Blue
This Valentine's Day I'm writing to you.
Have lots of fun spreading sunshine and cheer
Smiles count most Oh and do lend an ear.
Listen with your heart because that's what friends do.
When you put others first all your dreams will come true.

So hand out those red roses and violets of blue
and know that this poem was created for you.
Written by Me DonnaBP :o)


Wrap abundant happiness around a heart aglow,
Lace it up with tenderness and tie it with a bow.
Attach warm thoughts of sweet caress
And give it out of lovingness.



Donna's Main Holiday Pages


* Home Page * New Year's * Groundhog * Valentine's *
* NASCAR * President's * Birthday * St. Patrick's *
* April Fool's * Easter * Mother's * Memorial * Father's *
* Independence * Labor * Grandparent's * School Day's *
* Halloween * Thanksgiving * Christmas *

No right click code by Billy Bear

2000-03 Medonnabp Images not available for download.