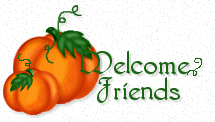 Thank you to all my special Pumpkin Pals
for making this the best Halloween ever!!
Let's see if I can get this straight.
Boo Who was Jeanne ~ Boo Bear was DeeDee
Spooky Pal was Dawn K
I still do not know who Guess is or The Great Pumpkin.

Click on the Pumpkin to see my SPECIAL Halloween treat from Jeanne

I have to say this totally blew me away. When I first started doing holiday pages in 1998 I just had a Christmas site. Jeanne was one of the first people to give me her award. You know how you are when you first start getting awards... I used to get chills every time one came in my mail.

The thing about Jeanne was not only did she give me her award but she checked in with me from time to time to see how I was doing. I was so tickled to think here was this awesome lady with this totally awesome web site writing to lil 'ol me!!

Needless to say Jeanne has been my hero and inspiration ever since. And now to have her be a part of MY group just knocks my socks off. Then to have HER make this special web page just for ME... I'm speechless!!

Jeanne, you have no idea how much this means to me. Thank you from the bottom of my heart. What an awesome lady you are and I'm soooo glad our paths have crossed!! Lotsa Hugs!! Donna

Click on the Pumpkin to see my SPECIAL Halloween treat from Jeanne





This came from
Spooky Pal and Guess.
Thanks Pumpkin Pals!!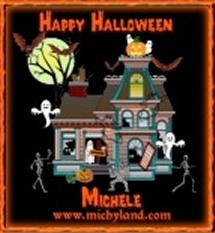 -x-x- Return to Holiday Menu -x-x-
* Home Page * New Year's * Groundhog * Valentine's *
* NASCAR * President's * Birthday * St. Patrick's *
* April Fool's * Easter * Mother's * Memorial * Father's *
* Independence * Labor * Grandparent's * School Day's *
* Halloween * Thanksgiving * Christmas *


2000-01 Medonnabp
Images not available for download.