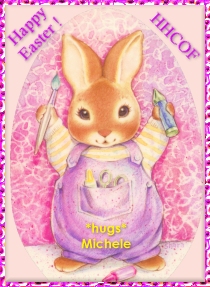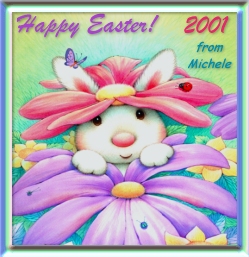 Received 4-2001 from Michele Thank you Michele :o)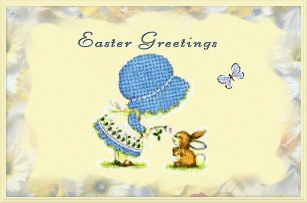 Received 4-2001 from Betty Thank you Betty :o)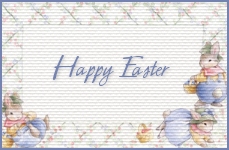 Received 4-2001 from Sweet Mama Pam Thank you Pam :o)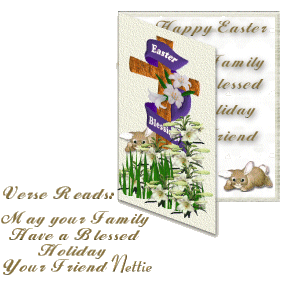 Received 4-2001 from Nettie Thank you Nettie :o)
Received 4-2001 from Nettie Thank you Nettie :o)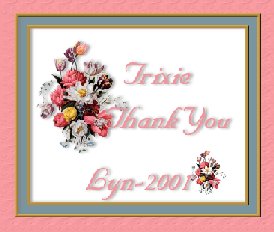 Received 4-2001 from Lyn Thank you Lyn :o)


Michele these are by far my absolute favorites!! :o)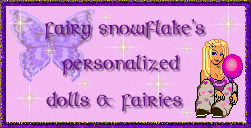 Six little Easter eggs were having quite a say:
Which one should fill the basket on Easter Day?

The first one said, "I'm candy, I'm sweet!"
The second one said, "My design is so-o-o neat!"
The third egg said, "My colors are bright."
The fourth egg said, "I'm shaped just right."
The fifth egg said, "I have the nicest shell."
The sixth egg said, "I'd never break if I fell!"
They could not decide...
so they all jumped inside!!
"Wow," they cried. "this is such great Fun!
Six Eggs-tra special eggs
are better than One!"

-x-x- Return to Holiday Menu -x-x-
* Home Page * New Year's * Groundhog * Valentine's *
* NASCAR * President's * Birthday * St. Patrick's *
* April Fool's * Easter * Mother's * Memorial * Father's *
* Independence * Labor * Grandparent's * School Day's *
* Halloween * Thanksgiving * Christmas *

Easter tree & Jellybeans by Sheriberry

2000-01 Medonnabp
Images not available for download.