More 1999 Christmas Gifts

THESE GIFTS CAME FROM MY FRIENDS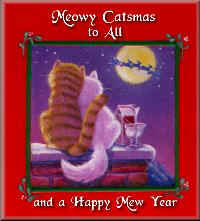 | | |
| --- | --- |
| | Look What Michele Sent Me!!! Thank You Michele!!! :o) |
THANK YOU MICHELE FOR THESE BEAUTIFUL GIFTS!!

THESE GREAT SANTA MINTS CAME FROM QT-CUTIE!!
HA!! AND YOU GUYS THOUGHT THE HOTEL PROVIDED THEM!!
THANK YOU PAM!!

THANK YOU SO MUCH TERESA FOR THESE BEAUTIFUL GIFTS!!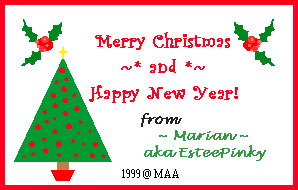 THIS FANTASTIC GIFT CAME FROM ESTEEPINKY
OUR NEWEST MEMBER. THANK YOU MARIAN!!

THIS BEAUTIFUL GIFT CAME FROM ANGELMOM
I ANSWERED ALL HER HOLIDAY TRIVIA QUESTIONS!!
THANK YOU ANGELMOM!!

THESE WONDERFUL GIFTS CAME FROM MIRIAM
THANK YOU MIRIAM!!
WE THINK YOUR PRETTY SPECIAL TOO!! :o)

-x-x- Return to Holiday Menu -x-x-
* Home Page * New Year's * Groundhog * Valentine's *
* NASCAR * President's * Birthday * St. Patrick's *
* April Fool's * Easter * Mother's * Memorial * Father's *
* Independence * Labor * Grandparent's * School Day's *
* Halloween * Thanksgiving * Christmas *

Wallpaper & Tubes by Jane

2000-01 Medonnabp
Images not available for download.